Momma Jane's Cleaner
Regular price
Sale price
$41.44 CAD
Unit price
per
Sale
Sold out
MOMMA JANE'S CLEANER (MJC)
Momma Jane's Cleaner (MJC) is now available in two NEW refill sizes. Our cleaner is made of concentrated plants to help clean the most sticky coated glass, steel, ceramic, & silicone items.

Momma Jane's Cleaner is sold in 4 fl oz and 8 fl oz bottles that can easy refill our 2 fl oz and 4 fl oz dropper bottles. Both our resin cleaner and sticky cleaner are the same recipe. 

Tips before refilling; Use the funnel sent with the refill bottles to refill your dropper.

Sizes;

4 fl oz : 2 Refills of our 2 fl oz MJC Dropper Bottles, 60+ cleanings depending on what one is cleaning.

8 fl oz : 4 Refills of our 2 fl oz MJC Dropper Bottles, 120+ cleanings depending on what one is cleaning.
INSTRUCTIONS:
ADD CLEANER TO GOO OR STICKY ADHESIVE

RUB IN / ADD WATER IF NEEDED

LET SIT FOR 3-10 MINUTES

RINSE / WIPE OFF
WHAT CAN YOU CLEAN?
MOMMA JANE'S CLEANER (MJC) IS A CONCENTRATED CLEANER, TO AID IN ANY CLEANING MESS:

1-2 DROPS OF MJC CLEANS A STICKEY MESS

1-2 DROPPER-FULLS OF MJC CLEANS BURNT FOOD & RESIN

3-4 DROPPER FULLS OF MJC, YOUR FAVORITE CLEANING AGENT*, & WATER IN A 16 OZ BOTTLE OR JAR; CLEANS YOUR COUNTERS, CABINETS, APPLIANCES,& BATHROOMS.
*CLEANING AGENTS WE LOVE VINEGAR, BAKING SODA, CASTILE SOAP, ALOE VERA, COCONUT OIL, SALT, & WITCH HAZEL.
** 8 fl oz refills get sent with a temporary oil pourer that can be popped on to refill bottles, and popped off to store.
Share
View full details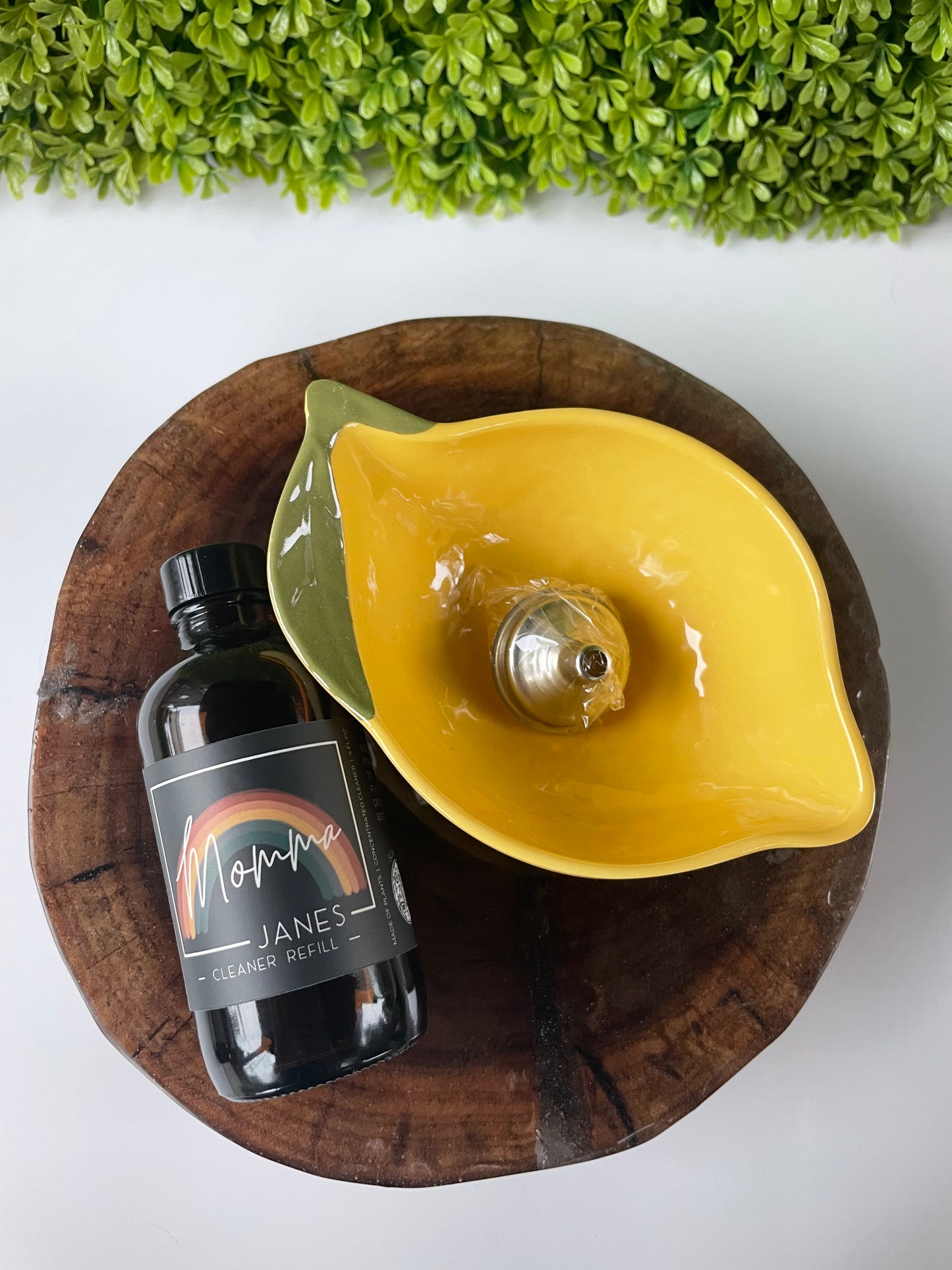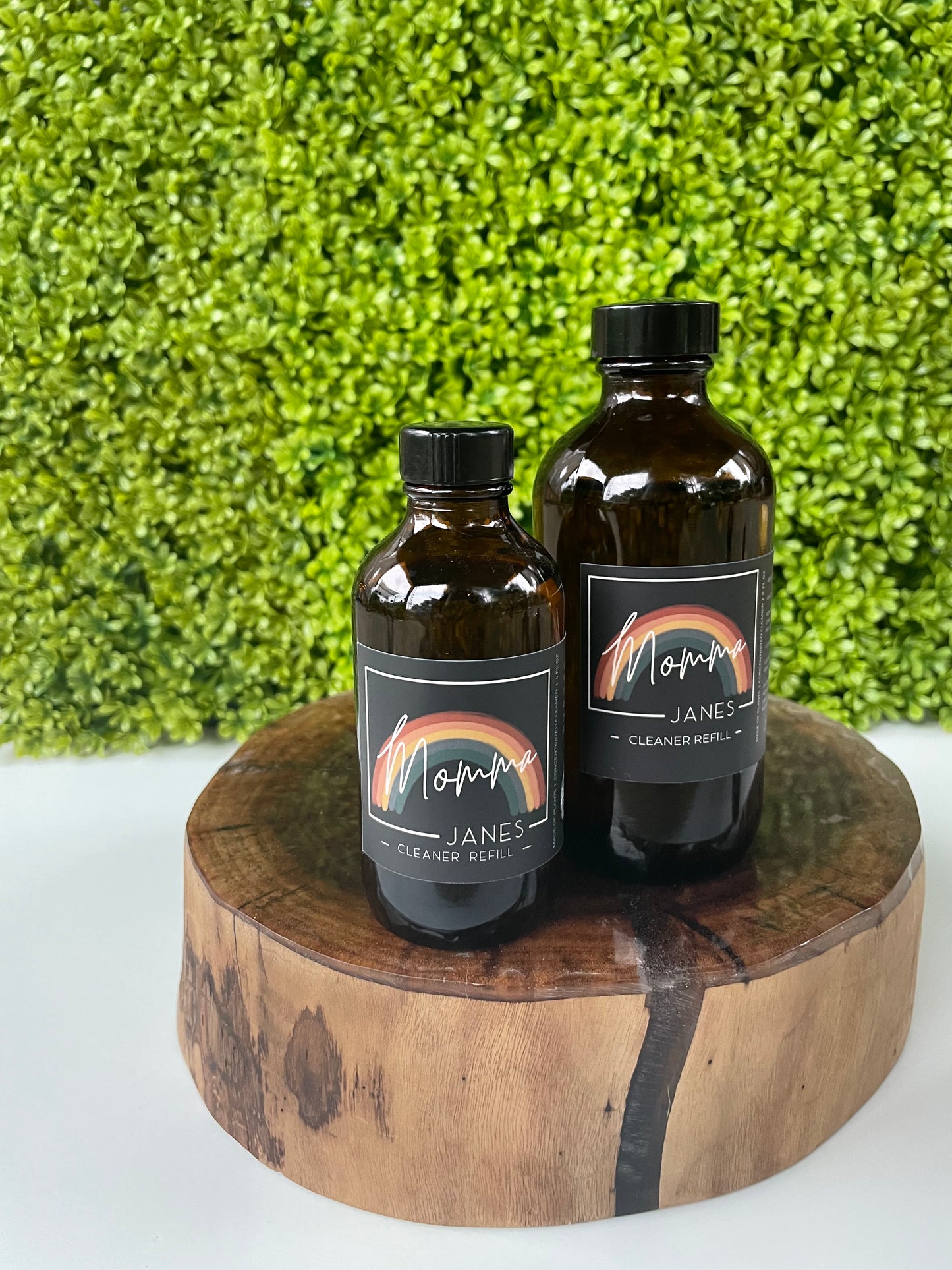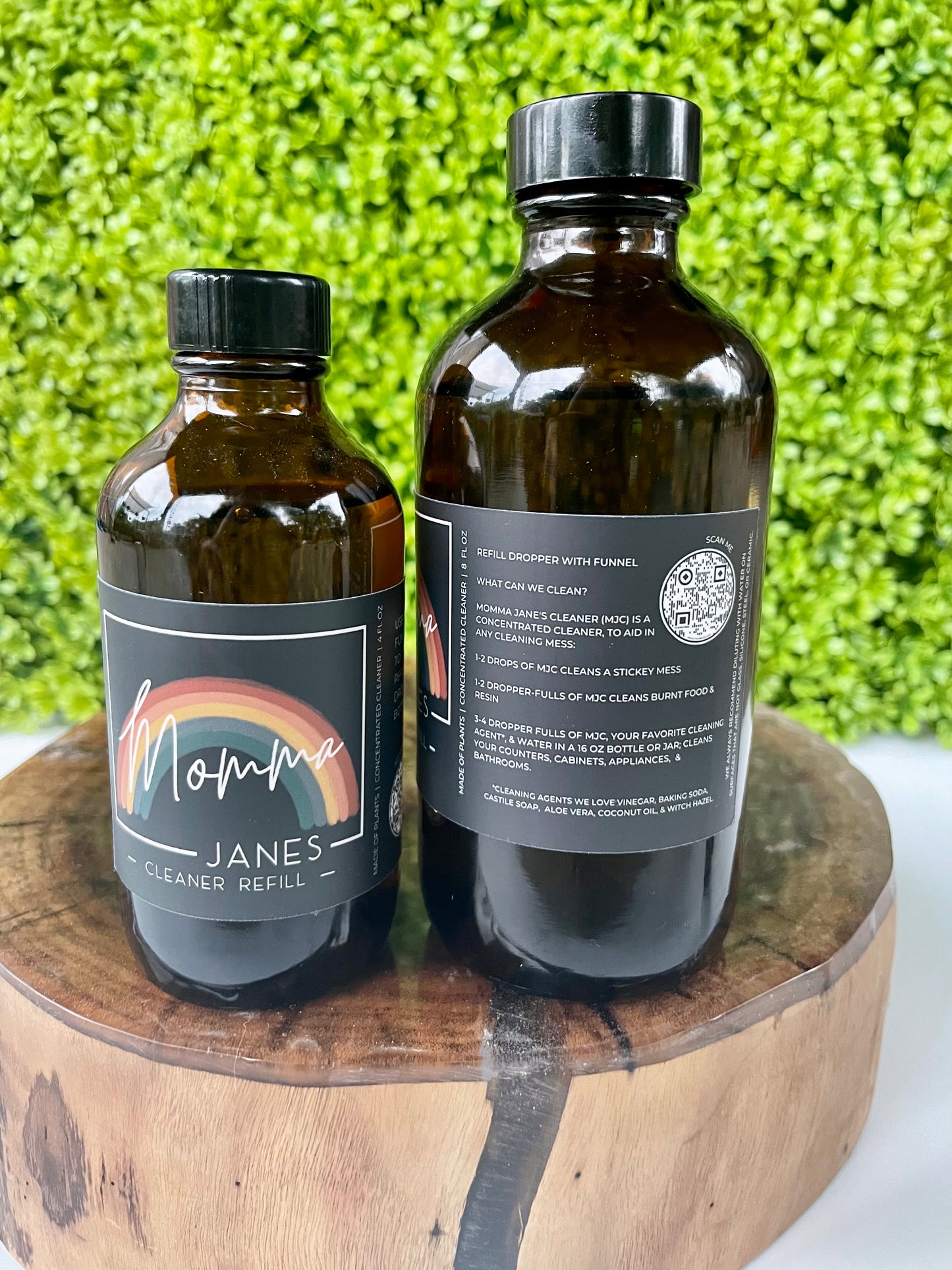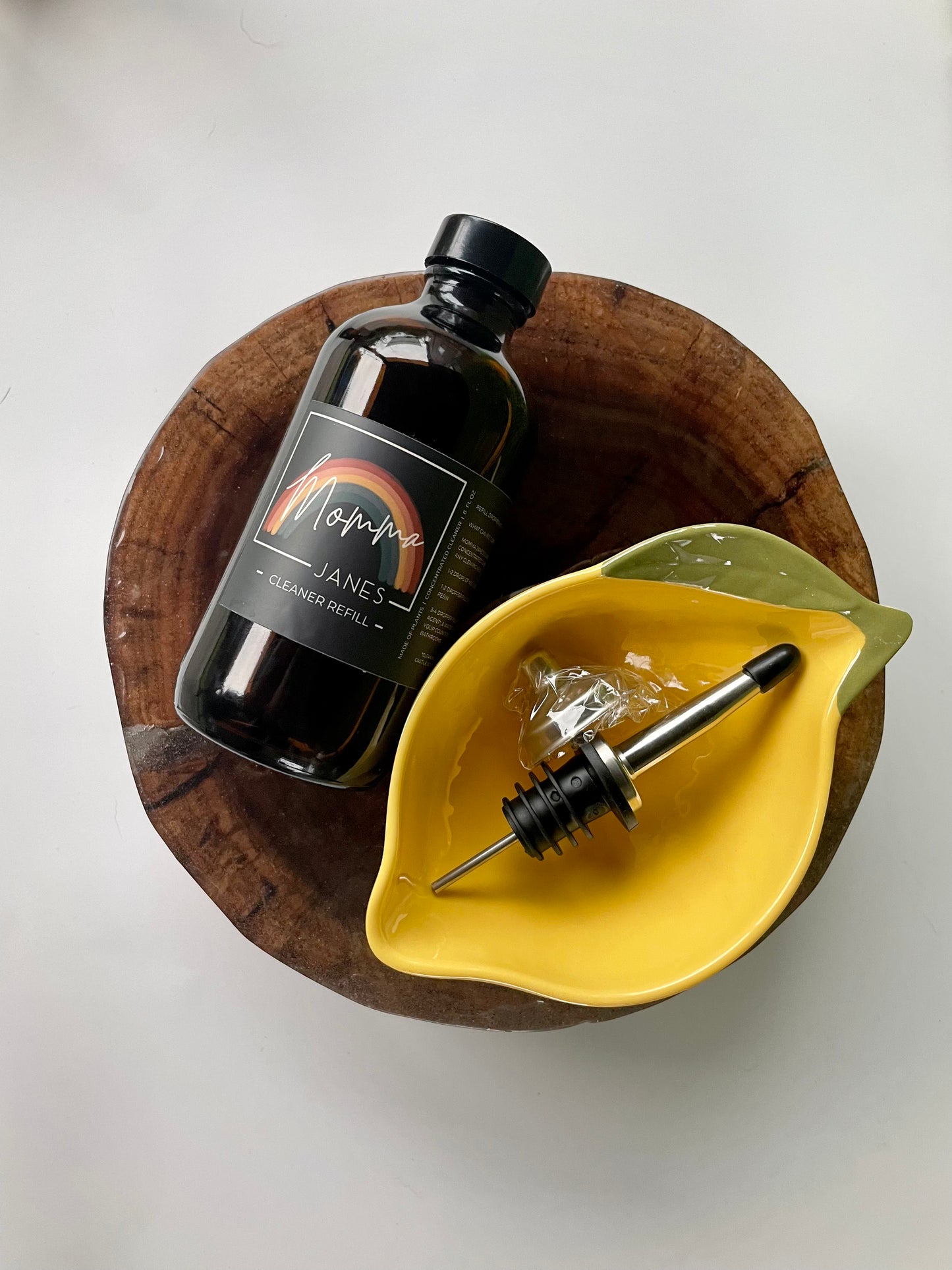 Best cleaner ever!!!
This is my second time purchasing and I knew a bigger bottle was what I needed. I use it so much to keep my glass clean and am impressed that it doesn't leave a chemical taste like other cleaners. It's all natural and smells amazing with the best lemon scent. Plusss the special painted boxes by Momma Jane's kiddos are always a nice touch. I'm a customer for life! 💜
Awesome Product!
I love this stuff, works and smells great. This is my second purchase and I'm completely hooked! Thanks
The Best Cleaner!
I like clean cannabis accessories and Momma Janes is the only cleaner I use now, and I give it away as gifts! It works great and leaves your pipe, bong or other consumption tool lemony fresh.